Test your balance and coordination while building confidence on our exciting low ropes course!
With a number of elements over two different routes it's a safe, fun and inspiring experience for younger children.
While our High Ropes course provides some of the most challenging routes in the country, our Low Ropes course offers a more gentle and milder approach for younger ones – though still allowing for a tonne of fun and exciting adventure!
Younger ones can experience up to 1 hour exploring 11 different elements over two different routes starting from a gentle 1 metre and 1.5m high respectively. While we can accomodate all primary school aged children particulary those who may be less confident or less able to tackle the higher routes above, the Low Ropes are best suited for 5 to 8 year olds.
Please note adult supervision is required at all times – however for our Low Ropes you won't be participating on the course itself, you will need to walk around besides them from the ground – the Low Ropes are not built for adult participation!

After even more adventure?
As well as experiencing our Low Ropes course you can also add-on exciting elements from our Activity Tower! Simply select the respective tower bundle when making your booking or mention it to a member of the Team when booking in at our cabin.
A BIRDS-EYE VIEW OF THE COURSE!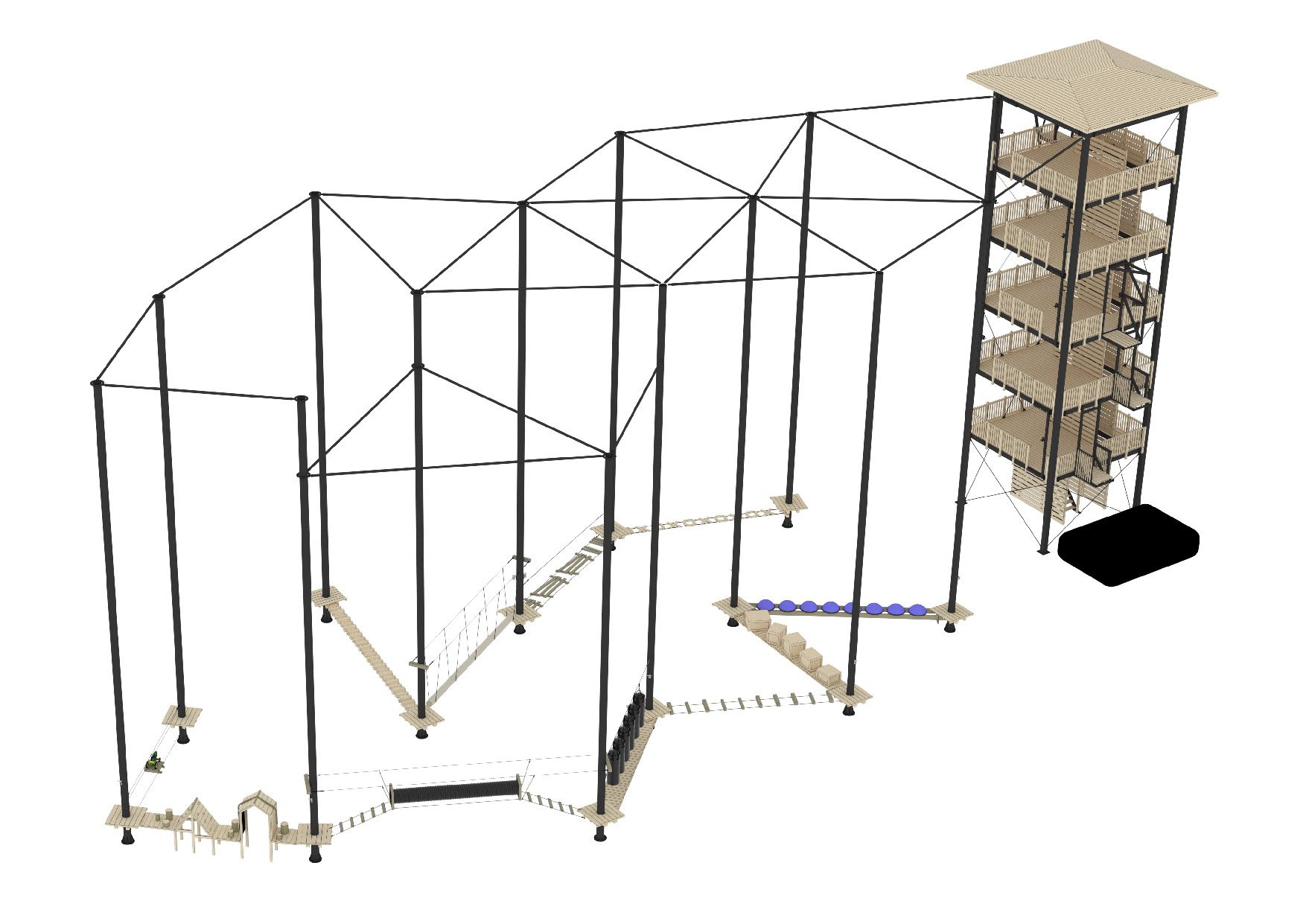 LOW ROPES – LEVEL 1
At 1m and 1.5m high, our Low Ropes features two different routes. They are designed for primary school children and younger ones who may be less confident, or less able to tackle the taller routes on the course.
Features eleven obstacles, including a stump path, timber swing and the combo, oxo and bouncing bridges, a mini zip line, box climbs, raised tunnel and swinging bags! Good things come in small packages!
SUPERVISION RATIO'S:
One adult over the age of 18 must supervise alongside the course (from the ground) any particpants under the age of 12 years. Each adult can supervise a maximum of two under 12's. 
Want to go higher?  
Click below to discover all about our High Ropes with levels that range from 4 metres up to an incredible 18 metres high! 
frequently asked
questions about the park
How hard is it?
It's pretty physical and some of the elements will be challenging for some people. The course is much harder than some of the more common and popular high ropes courses around the country.  The elements are designed to test you in different ways, some are more obvious and purely physical, while others are more about working the best way mentally. Some elements do require good levels of upper body strength and mobility, but if you are generally fit and healthy and can handle a workout then chances are you can do most of the obstacles around the course. 
Our Low Ropes are designed for younger (5-8 year olds) and children who are less confident or able to tackle the higher routes.
Our High Ropes Course is for older children and adults who are more confident with heights and happy about a physical workout! Levels 2 - 4 are a challenge while Levels 5 & 6 are even more difficult - these really do require a proper head for heights and ample upper body strength!  
Certain levels require certain minimum restrictions based on ages, height and weight.
It is worth noting that our routes are one-way, so once you are out on the course, unless you are right at the start, the only ways off are to complete the obstacles and route you are on, or as a last resort to be rescued. 
Can children go by themselves on the course?
After the safety briefing, participants will not be joined or directly supervised by an instructor out on the course so participants have to be able to manage the obstacles and use our belay safety system completely independently.  We will of course help people as and when needed.
On the Low Ropes (Level 1), children must be accompanied by a supervising adult, however adults are not participating or physically on the course, you can walk besides on the ground.
On the High Ropes (Levels 2 - 6), under 12 year olds must be accompanied by a participating adult.  An adult can supervise up to 2 under 12's. For young people between 12 and 16 years an adult is required to supervise either on the course or remain on-site for the duration of the session.
What should I wear?
Obviously not your Sunday best - wear something light and comfortable that is appropriate for the day's weather and that you don't mind if it gets grubby!  If sunshine is forecast then t-shirt & shorts is fine, if it looks likely to be a wet one then probably best to bring a coat!  Either way we suggest something that covers your stomach/abdomen area to stop the harness from rubbing (no crop tops).
It is important that you wear footwear that isn't going to fall off easily, and also covers your heel and toes – so no crocs, flip-flops or slippers!  A sturdy pair of trainers, shoes or walking boots will do just fine.
We also recommend you wear gloves – these can be purchased online ahead of your visit and collected when you arrive – or you can bring your own. 
Long hair should be tied back to prevent getting entangled in any of the equipment. Also any jewellery and body piercings that are deemed to be a entanglement risk must be removed or taped over. 
What if there's bad weather?
We operate in all weathers – come rain or shine!  Rain and showers, snow and moderate winds are all perfectly acceptable condition for the ropes course to be safely used.   If the weather is so severe that we have to cancel a session, we will notify you at our earliest convenience and re-schedule your booking for another time.
What about bags & personal belongings?
Sorry, no hand bags, bumbags, carrier bags or back packs are permitted on the course due to the fitting of the harness.   All loose items (phones, keys, wallet, coins etc) must be removed from pockets during all activities.  A limited amount of lockers are available on-site – we ask that personal belongings are kept inside these or an alternative place. 
You may take a phone around the ropes course but it must be kept inside of a phone holder/carry pouch and attached securely to your persons. We have pouches available to purchase when you book or you can bring your own – these must be inspected by one of our instructors before embarking on the course.
Do you hold birthday parties?
We can offer Low Ropes Parties which are aimed at 5-8 year olds. For more details see our Parties page.  We are unable to offer Parties on the High Ropes or for older children at this stage but are working on a solution.
You can still book a group of children onto the High Ropes and/or our Tower activities for up to 15 children. If you have more than 15, please contact us to discuss your requirements and we'll see what we can do.
What is the minimum height?
That depends on which Level or activity you are doing.
All participants on Level 1 must be 1 metre tall and over. 
All adventure seekers on High Ropes Levels 2-4, and the activities from the Tower must be 1.2m tall and over.
All daredevils on High Ropes Levels 5 & 6 must be at least 1.45m tall or over.
What is the maximum weight?
The weight limit on our high ropes is 18st 9lb / 120kg.
Do you stay on the same line or clip & unclip along the way??
You stay on the same line. We use a continuous belay system called Expoglider. You are joined to the exploglider via your harness and therefore safely attached to the course at all times.
This clever solid cast metal loop glides over the cables. It is completely impossible to disconnect from the cable but has a small narrow opening on one side allowing you to slide it through anchor points along the way to each obstacle. Once on the cable, you can not unclip until you come to the end of a route.
We also have several 'exchange stations' on the tower, these work like junctions where you can basically select which path to continue on – be it the next level, a specific route or a particular jump.
Can I get additional support?
If you need extra assistance in participating around the course please get in Contact with us prior to booking to discuss your requirements.
What happens if I get stuck or want to stop?
Our team are well trained if such an occasion arises and will try to encourage you through any tricky elements.  We understand heights aren't for everyone though, so if you do get stuck or decide that you really can't carry on then one of our team will take action appropriately.  If you are nervous about the experience, we suggest trying Level 1 first, or booking Levels 2-4 at a quieter time when there are less people around.
What about amendments, refunds or cancellations?
For full details on our policy see our Terms & Conditions, but in brief… 
More than 14 days before your session – you can move at no cost or cancel a booking and receive a full refund.

Between 14 days and 48 hours before your session – you can move your booking (

at cost)

, but 50% of the booking price will remain due and will not be refunded. 

Within 48 hours before your session – sorry you won't be entitled to a refund for any amendment or cancellation to your booking.
Do you have parking?
Yes we have ample parking facilities for motorbikes and cars to larger vehicles such as coaches. We also have a bicycle rack if you prefer non-motorised modes of transport! 
Can I pop in for a drink or to watch?
Yes absolutely! You do not need to me a member or a climber or to have pre-booked at all - you can pop in and grab a drink or a snack from our cabin whenever we're open. We serve a mix of hot and cold drinks, snacks and have a great selection of ice creams all available for takeaway or you're more than welcome to take a seat and watch the action. 
Can we bring our own food?
Yes sure of course. We serve a selection of hot and cold drinks plus snacks and ice creams from our cabin, but you are more than welcome to bring your own food or drinks to enjoy while watching the action on the ropes!
Are dogs welcome?
Yes absolutely! Well-behaved four-legged friends are among some of our favourite customers - as long as they're open to a cuddle or two! 
Why the name?
We're pronouncing it 'Two seventy" rather than "Two hundred and seventy". The origins of the name come from the initial planned setting for 270 Climbing Park, which was due to be in Westgate Park in Gloucester ("west"…. 270 degrees …that was the thinking!). Plans were progressing well and was due to open in 2019 but had to be scrapped at the last minute after ground contamination issues ruled the development completely unfeasible. But not to be defeated, our attention quickly switched to alternative locations and not long after we became aware of the current site coming on to the market. After investing in the development for so long, by then the name just stuck! 
heights
Min. 1m (3ft 2″)  /  
Max. 1.45m (4ft 7″)